There's no use denying that what happened over a month ago sucked. It's not something you want to prepare yourself for, but you ought to. It's not pessimism, it's not self-doubt. It is, quite simply, realistic.
Now that the darkest of days are over, I have to let the light back in. It is a slow, steady process. Although some might say: quicker than most. Perhaps I'm just a quick learner. Or perhaps reality is easier to accept than the lies I tell myself.
Most days are a blur of events overlapping one another, repeating themselves before and after and in between, that sometimes I cannot tell where one day ended and another began. It's like constantly moving through a cloud and I wonder where am I headed or how am I supposed to get there.
But then there are times when things are so clear that I have to remind myself that it is real. That I am real. That everything around me is real and happening and it's not going to stop.
I'd like to think that I'm totally over it, but I clearly am not. At least now it's no longer about the person that caused the hurt. Now it is just about coming to grips with the fact that I was, and there will be times that I will be reminded of that fact. Yes, it happened. Yes, it's real. Deal with it and carry on.
Current Mood:

indescribable

Turning Tables by Adele
Another great song by a great singer. I love how perfectly she describes flawed relationships and I am not surprised that a lot of people feel an instant connection with her songs. Love and heartbreak are universally felt even in the tiniest sense, so I can see how anyone could immediately fall in love with lyrics and melodies that tug at the heartstrings. Adele and her songs do just that, effortlessly.
I decided to feature Turning Tables here because I have felt the same way several times in my current relationship. Thankfully, it hasn't gotten to a point where it is completely one-sided. It is hard when the person you love manages to turn the tables on you, and you always end up losing, giving up, and giving in.
Being in a relationship is work. You have to be aware what you're in for, what you're sacrificing, and weigh the rewards along with them. I have learned to accept that life is not fair, that other people will have more luck in relationships than I would have. I believe that love is a lot like life — it is not all sunshine and roses; it has its share of darkness, too.
The hardest things, sometimes, are the most worthwhile. But I'm still keeping my eyes peeled.

Lyrics:
Close enough to start a war
All that I have is on the floor
God only knows what we're fighting for
All that I say, you always say more

I can't keep up with your turning tables
Under your thumb, I can't breathe

So I won't let you close enough to hurt me
No, I won't ask you, you to just desert me
I can't give you, what you think you give me
It's time to say goodbye to turning tables
To turning tables

Under haunted skies I see you, ooh
Where love is lost, your ghost is found
I braved a hundred storms to leave you
As hard as you try, no I will never be knocked down

I can't keep up with your turning tables
Under your thumb, I can't breathe

So I won't let you close enough to hurt me, no
I won't ask you, you to just desert me
I can't give you, what you think you give me
It's time to say goodbye to turning tables
Turning tables

Next time I'll be braver
I'll be my own savior
When the thunder calls for me
Next time I'll be braver
I'll be my own savior
Standing on my own two feet

I won't let you close enough to hurt me, no
I won't ask you, you to just desert me
I can't give you, what you think you give me
It's time to say goodbye to turning tables
To turning tables
Turning tables, yeah
Turning ohh

99 Problems by Hugo
This song was on a scene in the movie No Strings Attached and I immediately fell in love with the rhythm. The beat and the stomping makes me want to bob my head with it every single time. Great song to sing along to.
Lyrics:
If you're havin' girl problems, I feel bad for you son
I got 99 problems and a bitch ain't one

Tip my hat to the sun in the west
Feel the beat right in my chest
At the crossroads a second time
Make the devil change his mind.
It's a pound of flesh, but it's really a ton
99 problems and a bitch ain't one

If you're havin' girl problems, I feel bad for you son
I got 99 problems and a bitch ain't one
99 problems
But a bitch ain't one.

I could lose my mind in this heat
Lookin' for the prize but I don't want blood
I order one drink then I drink the flood
Well, you can come inside, but your friends can't come
99 problems and a bitch ain't one

If you're havin' girl problems I feel bad for you son
99 problems and a bitch ain't one
I got 99
99
99
99

99 problems
But a bitch ain't one.

99
99 problems and a bitch ain't one.
There was an LJ outage? Well, if I'm able to get this thing posted right up, then no reason to worry. The only thing I'm worried about is not being able to update when I want to and not being able to read stuff that people write. Yes, I read them, so keep 'em all coming! :)

I'm still pretty psyched about the fact that it's the weekend again and I'm just enjoying every minute of it. Unfortunately, so does my brain who's been quite busy so please bear with it as it is currently unable to write proper posts.

Hopefully, I'll have something more interesting to put up next time.

Have a great weekend everyone! :)
So I started trying out yoga and I've been doing it in my room. I hate running, I don't have a pool, so yoga is the best way to get my heart pumping. I downloaded this app on my iPad and been following the beginners stuff. The easiest program is the 23-minute "Sun Salutation for Wellness". The breathing exercise, "Breathing: Prithvi Pranayama", is 35 minutes. And the next program, "Beginner Prana Shakti Yoga", is 45 minutes.
Admittedly, I could only do around 20-30 minutes of these exercises at one time. When I tried the 45-minute program I didn't get to finish it because I was so winded out, sweating like a mother, that I just had to stop and lie down like a corpse ("Savasana" - yes they have a name for it, hehe).
It feels good, though. I like that I'm sweating because I feel like I'm losing bad fats in the process. I gained so much weight when I went to Canada, and it doesn't help that I have a sedentary job, working from home most of the week.
I want to get the feeling back -- of wanting to work out, missing working out when you haven't for a couple of days. I used to have that a few years ago when I was still going to the gym, but somewhere along the way, I just lost it.
We'll see how this goes. So far, so good. I just wish I could get past this stage when every time I do yoga I feel like passing out. Hahaha! Such a weakling.
Anywho, have a great day, folks!
Current Mood:

refreshed
It's been a couple of years since the two Davids went to Manila for a concert. One of them is back again for a show at the Araneta Coliseum. My sister and I are going to see David Archuleta live tonight and I'm excited!
For one thing, I know how much my sister likes him as a performer. She was actually with me and
dreamspinner_
when we saw that first concert at the Mall of Asia grounds. Also, I won't be here for her birthday so I bought the tickets as an early present, plus earlier this week she had a terrible encounter with
higad
. I thought this should make her forget it ever happened and she'd just have fun tonight! (Of course I'd be having fun, too! LOL)
Current Mood:

excited
I started an entry the morning after the final NASA space shuttle launch, but I never got around to continuing it until now. Forgive me, but when I write on this journal, I have to be in a certain mood and mindset, otherwise, I wouldn't be able to string sentences together. :)
In any case, I wrote that when I watched the final launch live with Ken and Chewy, I remember being excited watching the engines and the solid rocket boosters roar and lift this magnificent space vehicle up in the air and into orbit. Ken and I don't have a TV in the condo so we were watching via the CNN app on the iPad. I felt like I had to take snapshots from the live feed and from replays and here are some of them:
The Space Shuttle Atlantis, sitting pretty and calm on the launch pad. It was a bit of a cloudy day, but still got a GO for launch. If you look closely, there was also a bird flying around the scene, which was pretty nice.
,
T-minus 6 seconds and the engines roar to life.
And liftoff!!!
Isn't that the most amazing thing EVER?!
I forgot to mention that when I watched the replay the next morning, that's when it sunk in that it was the last launch for the space shuttle program. I shed a few tears, not only because I wouldn't be able to watch any of it again, but I felt like part of me died.
As a child, I loved watching and reading about space -- the stars, planets, constellations and galaxies. The picture above shows one of my most favorite books when I was a kid, "Sky and Earth". I remember that there were only two of them that I paid attention to out of about 10 from A Child's First Library of Learning (the other book being "Famous Places"). Of course, I wanted to be an astronaut, but I knew then that I had a very slim shot of becoming one, so it simply remained a childish dream. C'est la vie. Besides, I get motion sickness. :)

So there you go, the last launch of the Space Shuttle Atlantis. In a couple of weeks it will return home to Kennedy Space Center, never to fly again. As for the other shuttles, they also had their final hurrah and now getting prepared for their own homes. Discovery will go to the Smithsonian's National Air and Space Museum, Endeavour to California Science Center in Los Angeles, and Enterprise to the Intrepid Sea, Air & Space Museum in New York City. Columbia and Challenger, although met with tragic endings, will always be remembered.
Well, I guess I'll just have to see one of these babies up close. Field trip! :)
Current Mood:

hopeful
It's another one of those days at work when I know for a fact that I won't be getting anything done at all. Leave it up to Mondays and Fridays to make you feel totally useless and lazy.
You must be thinking, "The hell she talking about? It's Tuesday!" While I do recognize that it's a lovely Tuesday morning here in Manila, it is still Monday afternoon in Vancouver, whose time and days I'm following for work. Anything I have to say about work has to be in Pacific time, or else I'd end up missing meetings and deadlines. No biggie.
I still get a bit of a break, though. I start every work day at 1PM Pacific Time, 4AM Manila. I finish in 8 hours at noon. Yes, only 8 hours including "lunch"! I get the rest of the afternoon off for errands or mucking about in the Podium or Greenhills with Ken.
Anyway, to compensate for my lack of work output, I decided to write all about it here. At least I can be a little bit productive while writing about being, well, not productive.
I also made breakfast for Ken and myself. Don't ask what it is, though. It's too embarrassing and unhealthy. Haha!
I took Chewy for a walk around the block. The streets were a bit wet so I was concerned about his paws getting all muddy and yuck. I wiped him down with a paper towel when we got home. It's been more than an hour and he's back to his dry self. Paws don't look too shabby, either, no?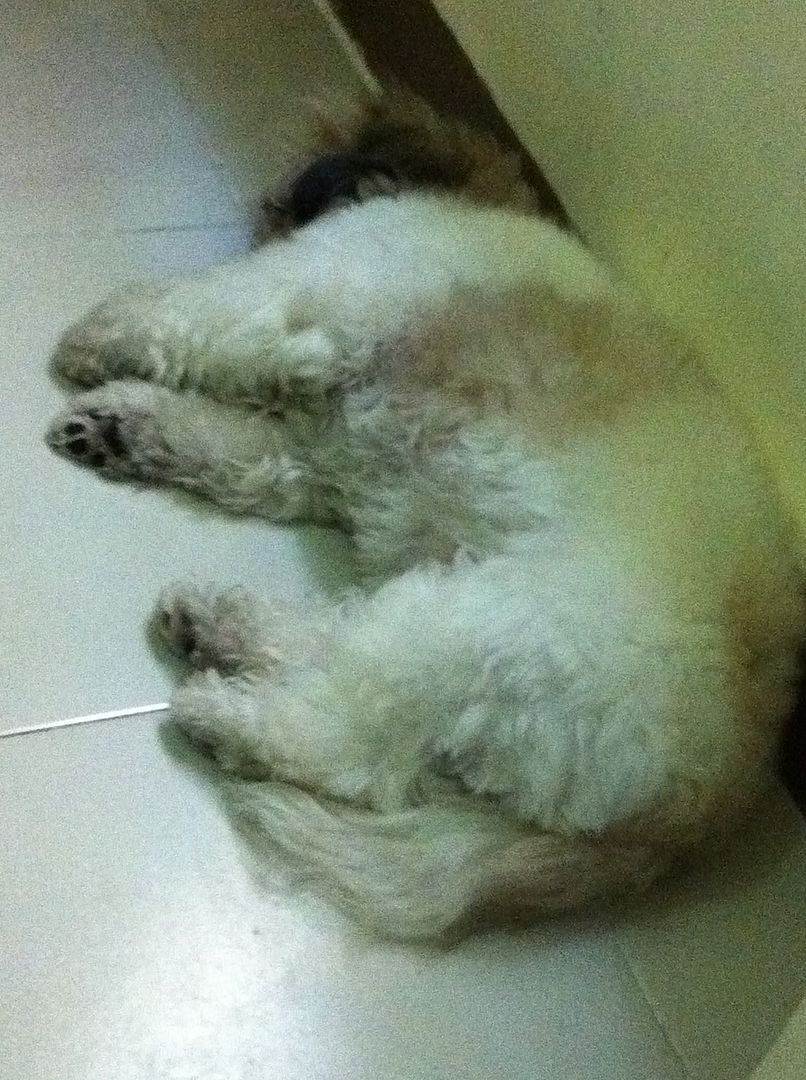 Hah. Three and a half hours left in the workday. I wish it were over already.
Current Mood:

lazy
So if those clouds and rainshowers we experienced while in Coron were any indication, I do believe that summer is officially done for the year.
Well... that was fast.
I did appreciate going in to work twice a week with dry feet, but I'll take wet feet over headaches any day. The common cold can be a bother, though. Ah, well. You can't have them all.
* * *
Coron was awesome, by the way. I'd like to go back without those grey skies hovering over me. But even with them around, the place was still so beautiful, I imagine it to be like paradise under lots of sunshine.
Right?!
The coolest thing was when the tour guide sent us to Pass Island, which we basically had to ourselves for a bit until another boat came. Regardless, it gave us some time to be silly with the camera. We watched
Kung Fu Panda
before coming to Coron, which explains the animated poses. :) More photos
here
.
We'll be back for sure!
If anyone is wondering where we stayed for 4 days and 3 nights, it's at
Coron Village Lodge
. It's nothing fancy and it's in the town, but the islands are very accessible from there. The dock is just about 3 minutes away by tricycle. We got
this package
for P9500 each person, meals included. It was so hassle-free and I didn't have to think about anything -- just what time to wake up and what time to eat. Haha. :)
Current Mood:

lazy and fat
I think I was born in the wrong country. To think being born in the Philippines I should've been gifted with super heat-resisting powers to get myself through summer. But nooooo, almost everyday I live in fear knowing that a few degrees over my limit and I would get this massive headache that would render me useless the entire day. And so, I wouldn't be surprised if my electricity bill doubles by the next due date. I've been working the A/C like a slave most afternoons. Most of the time it helps, but on mega hot days like today, all I could really do is live through the pain and hope that it goes away after a good night's sleep.